Do you feel like jumping in this, at the first glance, in this undemanding but engaging new production? So take you joysticks and let's play! You will play as an unusual ninja warrior, the one that in contrast to popular image is not slim and sporty but rather is an owner of a big belly. Having such a belly may make us surprised that this character can jump as high as he can, but it's obvious that the realism of the movement isn't important here. It is the humour that counts here.
It is worth to mention the fact that, as we can read in a short info before the main screen, Jump Ninja was created by Wanax (with the help of saulc12) especially for his son Francesco. He did it to make his son fall in love with C64. By the way it is a great gift and surely it will be remembered by the son in the years to follow as it didn't require a lot of money. On the contrary, it was self-made using a lot of passion and heart.
But let's talk about the game. Although at first it's style bears resemblance to a very popular "one-button" games such as Flappy Bird or Canabalt, it is just half the truth as difficulty here is higher as you not only hit the fire button but you also have to use directions to steer our character. You have to do it quite skilfully as the stage is in constant movement.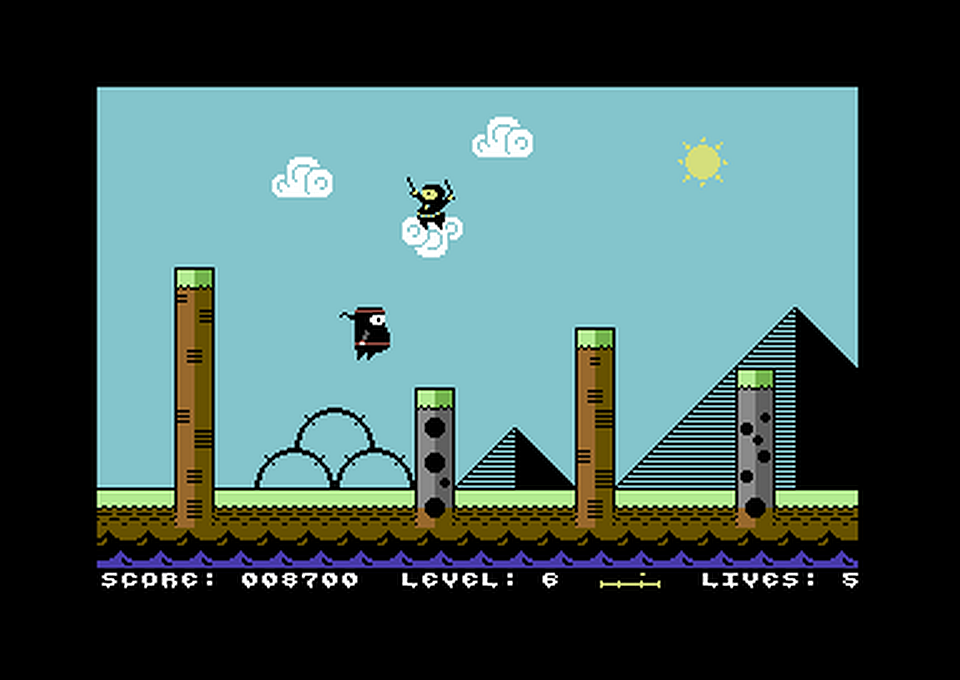 What is more interesting and surprising (for such productions) the game is not an endless one. At the bottom of the screen we can see not only the score and the number of the lives left but there are also the number of a current level and a progress bar. A good idea is also to include a system of check points (seen as a vertical lines on the progress bar) which enables us, in case of unfortunate landing, to continue the game from a certain point and not the beginning. Additional element, in later stages, are enemies and various obstacles.
Although in games as this the most important aspect is its playability, what is worth noticing is its beautiful and colourful hi-res graphics. It can be described as a simple one but at the same time it is really "clean" and friendly. We have a really smooth movement of a stage, water and the bottom of the stage moves slower than the rest of what you can see and the sun and clouds remain motionless. The atmosphere of the game is quite friendly and if I could wish for something more it would be the greater variety of backgrounds in the different stages of the game. The game has a nice music which resembles that of orient origin and it can be described as neither great nor bed.
The Jump Ninja game is definitely worth playing, even though you can't play with your own son yet. The game is not as difficult and hard as it seems at the beginning and after some time spent with it you can get quite skilful with it. Although I'm generally not good at playing arcade games, here I had no problems with playing it, which in the end resulted in having a lot of fun with it. I definitely recommend it.