The start of the holiday season on the Amiga scene was heralded by a fresh arcade puzzler! The game was developed for M68000 and released by alpine9000 from Enable Software Pty Ltd. Blocky Skies is the author's first project ever released on a classic Amiga and its development process was part of the 8-week assembler learning course during which the fully playable game was completed.
The goal of Blocky Skies is to follow the multi directional paths to reach the finish line. The main problem is to remember the grid, as from time to time it just vanishes. Along the way we traditionally collect coins, avoid flying enemies. Doing our best to quickly complete the levels, as floors will eventually drop below if we take too long to complete give puzzle. The game features 10 levels which makes the gameplay more complicated once we progress.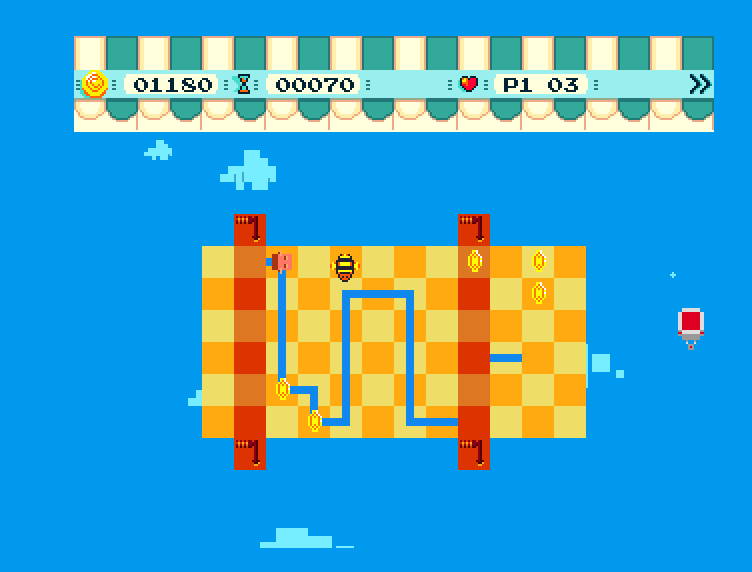 The unusual grid based movement system is fun. Working in tandem with pleasant audiovisuals. The playfields graphics are clear. Independently scrolled on two separate layers, animations are smooth and everything is wrapped with a dynamic effect of falling floors. It's obviously a homebrew, so by no means is this graphical piece of art, but it still features a decent quality for a non-commercial and solo project. The game music comes from tireless Simone Bernacchia (JMD) – same person who delivered audio for Tanks Furry that was featured in the previous issue of K&A plus. JMD's audio is always of highest quality and this game is no difference.
The game only requires 512kb ram memory, is free and downloadable from the official project website (http://blockyskies.com) in 3 different versions: boot disk ADF, hard drive install and CD32/CDTV ISO. Source code is open and available from the GitHub repository (https://github.com/alpine9000/blockyskies). Be sure to try out this game – we should be all happy to see new authors getting back to code their ideas on our classic Amiga platforms.